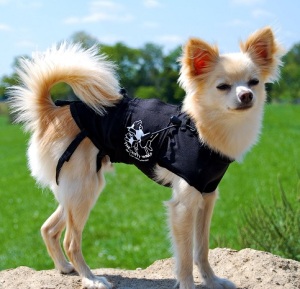 If you come home from work and your dog greets you at the door by jumping and spinning like crazy, your living room has all but been destroyed and the neighbours come on by to tell you that your dog has been barking the walls down while you were away, you might just have a dog who suffers from Separation Anxiety.
One thing we as pet owners need to remember is that when a dog is in the wild they very rarely separate from the pack. When they live with us in our homes it is a very different scenario and we have the responsibility to help lessen this sometimes unnatural, stressful situation. Don't worry. The Anxiety Wrap team are here to help!
Below are our 3 top tips for helping you ease your anxious dog:
1. Use the Anxiety Wrap.
Really with this tip alone, your dog will be feeling calmer and less anxious from the get go. The wrap 'hugs' your dog and activates acupressure points, resulting in a calming effect. The wrap works and you can now get yours for just $34.95 here!
2. Take your dog out for a walk before you go.
There are few things more soothing for your dog than a leisurely stroll with you. Take them to places where you know there will not be other external factors adding to their anxiety (such as other loud barking dogs, major road traffic and other noise pollutants).
3. Stay calm before you leave.
When the time comes for you to leave the house, don't feel like you are abandoning your dog. Leave all unwanted negative feelings behind and let your body language and positivity tell your dog that everything will be fine. Start your goodbyes long before it is actually time to leave. Give your dog time to get used to the idea that you are off out while you are still around him. If you feel your dog could benefit from some practice runs, try leaving him for 5 minutes, 10 minutes, 20 minutes and so on to build up the idea of being alone for a little while.
Following these three points should help your dog with their Separation Anxiety and become a much calmer dog.
If your dog happens to be a barker while you are away, consider the Quiet Dog by Anxiety Wrap. This really helps trigger acupressure points in the dogs face, resulting in a calmer dog, while reducing the desire to bark. Find out more here.